Mary Pankiewicz
Biography
Mary Pankiewicz, CPO-CD, has been a speaker, author and hands-on professional organizer since 1995. As owner of "Exceptional Productivity Now!" for business clients and "Clutter-free & Organized" for residential work, she specializes in helping businesses and individuals be more effective in their use of time and space. She works as a Productivity Coach with clients around the country.

She is a Certified Professional Organizer in Chronic Disorganization (CPO-CD) by the Institute of Challenging Disorganization (ICD) and is certified by the National Association of Professional Organizers (NAPO). Mary also has special training in working with ADD clients and in implementing LEAN Office. From 2006 to 2008, she was elected to serve on the Board of Directors of NAPO.

As a productivity expert, she has been quoted in the Wall Street Journal, Reader's Digest and on WBIR-TV (NBC affiliate, Knoxville, TN). She teaches classes on organization and productivity at the University of Tennessee, Knoxville.
Books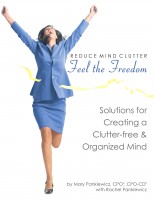 Reduce Mind Clutter - Feel the Freedom
by

Mary Pankiewicz

&

Rachel Pankiewicz
Reduce Mind Clutter - Feel the Freedom is designed to help you process your Mind Clutter, so you can focus on what is truly important to you. Freedom comes when you are in control of your time and feel more organized. The goal is not to just get more done but to improve the quality of your life. Learn simple solutions for your organizing, time management and procrastination challenges.
Mary Pankiewicz's tag cloud