Charles McMahon
Biography
Charles McMahon is an emeritus professor in the Department of Materials Science and Engineering of the University of Pennsylvania, where he has taught and carried out research since 1963, Prior to that he had received his undergraduate degree in the same department in 1955, served three years as a line officer in the U.S. Navy, and had received his ScD at MIT in 1963. His general research interests have been in the field of deformation and fracture of metals and alloys.
Books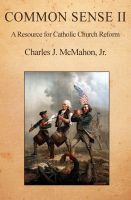 Common Sense II - A Resource for Catholic Church Reform
by

Charles McMahon
This book aims to give Catholics the information they need to argue authoritatively for vital reforms in the governance of the Catholic Church. It calls for three fundamental reforms with regard to bishops, priests, and women, and supplies the background history of Judeo-Christianity that is needed in order for one to stand one's ground in confronting the hierarchy.
Charles McMahon's tag cloud