Karen Boyd
Biography
Karen's passion is serving people through training, coaching, and mentoring through God-Given talents and life experiences! A professionally trained Coach, her mission is to arm people with the power to move forward in achieving success on purpose. Karen possesses over 20 years experience with a diverse background as a consultant, trainer, and mentor; in corporate, banking, finance, management, volunteerism, non-profits, and a US Navy Veteran. Her leadership experience, energetic teaching style, and positive approach, helps individuals/ministry leaders/business owners align their gifts and talents to become unstuck and move forward!
Where to find Karen Boyd online
Books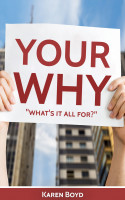 Your Why "What's It All for?"
by

Karen Boyd
Motivation...Determination...Your Why distinguishes the great minds of our world from people who simply aim to get by. How many times have you heard about successful individuals crazily going without food, rest or relaxation because they are just too focused on their aspirations to stop for the mundane activities of life? Or how many times have you heard about people who were fed up with their lif
Karen Boyd's tag cloud