Coco Ihle
Biography
Coco, a product of foster care and adoption, spent over fifty years searching for her sister, whom she found in 1994. Thus, the idea for this book was born. She discovered Scottish roots and plays harp and bagpipes, along with piano and cello. The Florida Writers Association published a short story of hers in 2009 in their first anthology. Coco is a member of MWA; SinC; FWA; The Alma Society, wich aids in family searches; the Dorothyl Digest and Scottish St. Andrew's Society.
Where to buy in print
Books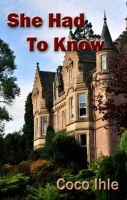 She Had To Know
by

Coco Ihle
(3.00 from 1 review)
After the deaths of her adopted parents, Arran discovers her long-lost sister's name and, despite a terrifying premonitory dream, embarks on a quest to find Sheena. After reuniting in Scotland, the sisters search for the reason their birth father and his housekeeper mysteriously died and why Sheena's life is being threatened.
Coco Ihle's tag cloud