Nicholas Abson
Biography
Born in Devon, England in 1946, Nick Abson immigrated to North America in 1956 with his family. He was educated in New York being expelled from both High School and University before returning to the UK. He started work as a Producer/Director of music films featuring artists such as Stevie Wonder, Dianna Ross, Kate Bush and Alan Parsons. In 1980 he moved to Broadcast Television completing a departure from music. Subsequently, he Directed news and current affairs programs such as the "World This Week" and "Public Eye". Then came science programmes such as "Real World", "Where There's Life", "Discovery" and "Equinox". Even though he was a serious factual programme director he is probably best known for "Fraggle Rock" and over 700 episodes of "Countdown", Britain's version of "Shiffre et Lettre". In 1990 he took another change in direction developing fuel cells and building Europe's largest fuel cell company, ZeTek with the first automated production plant. He built the first fuel cell powered taxis, a passenger carrying boat and UK. Always an innovator, he has now turned to writing putting forward advanced ideas and practical solutions to the grave political, economic and energy issues of our time. In the first of three volumes, "Factions and Pyramids" to be followed by "Stolen Energy" and "Watts On" he identifies the causes and remedies to our financial oppression.
Books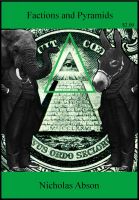 Factions and Pyramids
by

Nicholas Abson
The world order is structured in three levels; factions, authorities and collectives. Symbolically, it is a triangle, but more accurately a Pyramid. Factions are the power at the pinnacle, the authorities the instrument of power beneath and the collectives the builders of value at the base. It is a feudal arrangement, little different from the past, merely of greater sophistication.
Nicholas Abson's tag cloud