Andy Thompson
Biography
Andy Thompson is the Director of Communications at CompuClever. Andy is a fervent "preacher" of making applicable computer technology available to the mass public focusing on simplicity, effectiveness, and user-friendliness. Andy is also the Editor-in-Chief of the acclaimed PC Tips and Tricks newsletter, which is regularly enjoyed by hundreds of thousands of readers around the world. The newsletter includes topics in computer optimization, online security, privacy, and identity protection.
Where to find Andy Thompson online
Books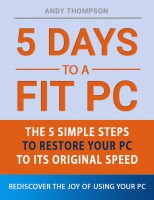 5 Days to a Fit PC - The 5 Simple Steps to Restore Your PC to Its Original Speed
by

Andy Thompson
TuneUp & Rediscover the Joy Of Using your PC in 5 Days! We designed this book to be like a "fitness" book and call it a "5 days to a fit PC". Instead of dumping everything on you all at once, we will guide you to learn, understand, and apply one "magic trick" a day over the next five days. Experience noticeable positive changes for your PC by the end of fifth day; we guarantee it!
Andy Thompson's tag cloud