Connie Wilkins
Biography
Connie Wilkins always intended to write speculative fiction, and did place stories in such venues as Marion Zimmer Bradley's Fantasy Magazine, Strange Horizons, and several anthologies including two of Bruce Coville's books for children. Then somewhere along the way she got sidetracked by the erotic side of the force. Her alter ego Sacchi Green has published short fiction in dozens of erotica anthologies, including seven volumes of Best Lesbian Erotica. Many of these have had historical settings, and a few have included specfic elements, the true loves that she's been overjoyed to combine in Time Well Bent. She has also edited or co-edited five anthologies of lesbian erotica, Rode Hard, Put Away Wet; Lipstick on Her Collar; Hard Road, Easy Riding; and Lesbian Cowboys (all with Rakelle Valencia, the first two being finalists for the Lambda Award), as well as Girl Crazy: Coming Out Erotica.
Where to buy in print
Books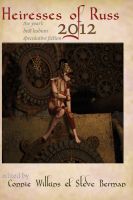 Heiresses of Russ 2012: The Year's Best Lesbian Speculative Fiction
by

Connie Wilkins
An unexplained astronomical phenomenon brings a woman and her grandfather closer. African villagers in need of aid are sent automatons. Mermaids devour men drawn by their song, but what will happen to a steampunk submersible piloted by a woman? Two teenage girls discover that memories are held in the fine aromas of perfumes. These are tales of the strange, wondrous, eerie, but all are rich.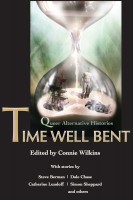 Time Well Bent: Queer Alternative Histories
by

Connie Wilkins
For as long as there's been such a thing as sex, alternate sexual identities have been a fact of life. So why have we been so nearly invisible in recorded history and historical fiction? Now editor Connie Wilkins, a Lambda Literary Award finalist, has assembled fourteen stories that span the centuries—from ancient times to the Renaissance to the modern era—and explore alternate pasts.
Connie Wilkins' tag cloud