Kimberly Hammond
Biography
I grew up in the suburbs of Houston, Texas. Like most children, I had a natural affinity for animals. So in 1986, I decided to stop eating animals. 5 years later, after learning that the dairy and veal industries are inseparable, I stopped eating dairy and eggs, as well.

Back then, there was very little support for the vegetarian and vegan lifestyle in the US (especially in Texas). There were very few pre-packaged vegan items in the grocery store (I remember buying coffee creamer to use as "soy milk"), and even fewer restaurants that denoted vegetarian options on their menus. If I was going to eat, then I had to cook it myself!

I remember when I was 22, a co-worker saw me eating my lunch that I brought from home. She said to me in amazement, "You cook for yourself?" (Duh, I thought.) "No one else is going to cook for me," I said. I've enjoyed baking since I was little, so truthfully, this was not a great hardship.

At first, I was only concerned about not hurting animals, and not very interested in eating healthy food. However, once I had children, that all changed.

It occurred to me that these little people with their little stomachs can only eat small amounts of food. Therefore, I can not feed them empty calories. Every bite has to be nutrient dense.

When the boys were infants, I'd add soy formula in the place of soy milk to recipes to give it an extra boost of fat and fortified nutrients. (Then I'd have to warn myself and my husband, "Don't eat that!" Infants and toddlers need way more fat than adults!)

Then as toddlers, the boys started their "picky eater phase". One day, at the end of my rope, I asked my eldest, "Just tell me what you will eat, and I'll cook it. What is your favorite food in the whole world?" He answered simply, "Bread."

Fine. I baked zucchini bread, pumpkin bread, spinach bread, banana bread...And that's how it all started. I started hiding fruit, vegetables and wheat germ in my baked goods.

I hope you enjoy my recipes. Please share your comments with me.
Books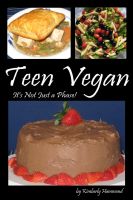 Teen Vegan: It's Not Just a Phase!
by

Kimberly Hammond
With more and more teenagers choosing to go vegan, this cookbook offers practical recipes and valuable support to vegan teens and their families, from an author who also became a vegetarian as a teenager. Best of all, there is a mouth-watering photo for each of the 50 recipes in "Teen Vegan" to help you decide what to cook for dinner tonight!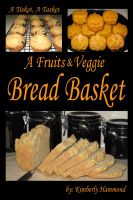 A Tisket, A Tasket, A Fruits & Veggie Bread Basket
by

Kimberly Hammond
(5.00 from 1 review)
A tasty collection of original and adapted vegan recipes for breads, rolls and muffins that contain buried treasure...fruits and vegetables! Kids will love these healthy snacks. Moms will love watching their children eat their vegetables!
Kimberly Hammond's tag cloud