Dianne Copley
Biography
Dianne Copley was born in Stillwater, Oklahoma, and raised throughout the southwest United States until the age of 12. Her father was in the oil industry and moved the family to Tripoli, Libya, in 1968. She spent 4 crucial years there, 2 years under King Idris and witnessed the revolution, then 2 more years under Colonel Gaddafi.

When the American airbase left, so did the high school Dianne attended, so she was sent off to Swiss boarding school at Ecole des Roches in the picturesque town of Bluche. Once her family resettled, she completed high school at the Joint Embassy School in Djakarta, Indonesia. Upon graduation, her mother brought her to the United States where she trained in Histology/Pathology in Dallas, Texas. At the age of 17, she was on her own, her parents half-way around the world and her spiritual search had begun.

Dianne was raised in the Lutheran faith, but exposed to many religions of the world. Her first venture was with the A.R.E. (Association for Research and Enlightenment) where she learned meditation. A few years later, a brief association with the Unification Church taught her that she must think for herself and not follow anyone or anything blindly.

Reading and experiencing many religious paths have taught her that it is important to see and understand the many choices life has to offer, to make the most of our time on this earth. Dianne hopes to share a sense of these choices with all, but especially adolescents who struggle to fit in.
Books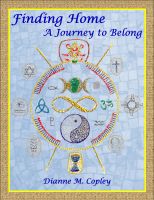 Finding Home - A Journey to Belong
by

Dianne Copley
For a hungry, cold and lonely street urchin, the terms 'home' and 'belonging' hold little meaning. Journey with young Litenya and his self-appointed companion, Daansar, as the monk brings these words to life, while pursuing a quest to bring balance and harmony to the Universe. Children 9 to 99 will find comfort in Dianne's well written words of wisdom, and Jennifer's brilliant illustrations.
Dianne Copley's tag cloud