Corey Niken
Publisher info
Corey Niken is an author in Los Angeles who writes in order to share abstract concepts that she believes are truly beneficial to one's well being and spirit.

Having an epiphany amidst a hellish week in a college parking lot, she began to write his first novel (now unpublished) with the intention that 'none would ever feel this way again'. The feeling being an indescribable feeling of incredible loss.

She continues to write fictional novels based on conceptual scenarios, always striving to reach out to anonymous readers who might be at a loss for answers. She believes the best form of therapy is complete clarity, something that there seems to be less and less of these days. Though her novels may be abstract, and the endings disharmonious- her intentions are pure.
Books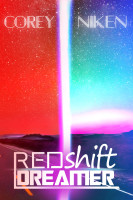 Red Shift Dreamer
by

Corey Niken
A young mechanic struggles to escape an unknown darkness as she travels across the technologically defunct American landscape. Armed with only her instincts, she survives and uncovers the mystery of a nation-wide sleep and the violent sentient monsoons that dominate the landscape.
Corey Niken's tag cloud