Corey Schubert
Biography
Corey Schubert began his professional writing career at age 16 as a freelancer investigating local legends for The Daily Banner newspaper in Cambridge, Md. He sped away from his small-town roots at age 19, heading to Florida with just $90 to his name and his clothes tossed in garbage bags in his trunk.

After toiling away for more than a year writing obituaries for Florida Today, Corey fulfilled one of his childhood dreams by becoming a journalist for a major daily paper. He produced investigative, breaking news and human interest stories that often gained national attention. Corey served as the lead reporter on two murder trials highlighted on Dateline NBC, and covered the space shuttle Columbia disaster in 2003.

Inspired to mentor other writers after years of reporting, Corey became public affairs editor for NASA's Kennedy Space Center in Florida. He served for four years as the primary editor for all NASA-KSC public affairs material released worldwide in print, video and online. This included the space shuttle's historic return-to-flight mission in 2005, during which Corey also served as media liaison to coordinate supporting 1,500 media representatives who came from across the world to cover the mission.

He currently serves as a media relations specialist for a healthcare organization.
Where to find Corey Schubert online
Books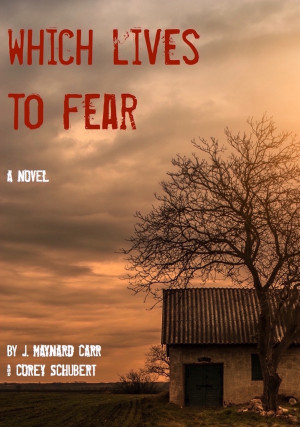 Which Lives to Fear
by

J. Maynard Carr

&

Corey Schubert
Fifteen years ago a serial killer ripped Melissa Wilder's family apart. The madman butchered her brother and left her father for dead and then vanished. When Melissa returns home to investigate the cold case, the murderer resumes his terrifying spree. When her half- brother is kidnapped by the madman, she must piece together her father's memories before the killer shatters her family again.