DeForest B. Soaries, Jr
Biography
Dr. DeForest "Buster" Soaries, Jr. is the creator of dfree® - a transformational lifestyle movement that promotes financial freedom through values-based principles and practical approaches to financial management. The dfree® strategy, currently in use by hundreds of churches and organizations across the United States and abroad, and featured by Soledad O'Brien on CNN's Almighty Debt, addresses the cultural, psychological and spiritual influences on financial wellness.

Dr. Soaries is uniquely qualified to motivate and instruct people in areas of personal development and financial success. His advice is practical, his perspective refreshing and his experiences instructive. After 15 years of debt, delinquency and deficit living, he rose to become a high ranking government official, corporate director, real estate investor, author and speaker. He serves as Senior Pastor to the 5000-plus members of the First Baptist Church of Lincoln Gardens in Somerset, New Jersey, and is an independent director at the Federal Home Loan Bank of New York and Independence Realty Trust of Philadelphia. He is former Secretary of State of New Jersey and Chairman of the United States Election Assistance Commission.

Dr. Soaries is author of "Say Yes to No Debt," previously titled "dfree®: Breaking Free from Financial Slavery" (Zondervan) and "dfree® Lifestyle: 12 Steps to Financial Freedom" (UMI). He is President and CEO of the dfree® Global Foundation, Inc., which provides training to organizations and individuals who help people achieve financial freedom and self-sufficiency.

Dr. Soaries is a graduate of Fordham University (BA), Princeton Theological Seminary (MDiv) and United Theological Seminary (DMin). He resides in Central New Jersey with his wife, Donna and twin sons, Malcolm and Martin.
Books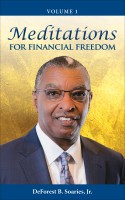 Meditations for Financial Freedom Vol 1
by

DeForest B. Soaries, Jr
Using personal and biblical stories and verses, Meditations for Financial Freedom Vol 1 offers the reader an opportunity to consider one financial challenge and encounter a brief thought or prayer related to each idea. Use this book for 7 minutes a day for reflection and financial guidance from a biblical context.
DeForest B. Soaries, Jr's tag cloud