Michel St-Ours
Biography
Michel St-Ours and Mercedes Leonard are the pen names of a real life couple in there 50s, together for more than 30 years.

Since July 2013, we started to rediscover our sexual life and I started writing short stories that I email my wife while she is at the office.... Its a great way to keep things interesting... It creates surprising situations when we are back home for dinner...

We are from Montreal, Canada. Some stories were written initially in English, others in French...We intend to publish in French and in English...

Bruno and Julie are not our real names, but the names of the characters in our stories...

You can reach us by email: michel_st-ours@videotron.ca

Hope to hear from you !

Michel St-Ours et Mercedes Leonard sont les noms de plume d'un couple reel dans la cinquantaine, ensemble depuis plus de 30 ans.

Depuis juillet 2013, nous avons redecouvert notre vie sexuelle et j'ai commence a ecrire de courtes histoires que je transmettais par email a ma femme au bureau. Une merveilleuse façon de maintenir un certain intérêt... Les retours à la maison sont toujours agreables les jours ou une nouvelle histoire est ecrite.

Nous sommes de Montreal, Quebec, Canada. Quelques histoires furent d'abord ecrites en anglais, d'autres en francais. Notre intention est de publier dans les deux langues...

Bruno et Julie ne sont pas nos vrais noms, mais les personnages qui nous representent dans nos histoires.

Ecrivez-nous: michel_st-ours@videotron.ca

Nous attendons vos commentaires !
Books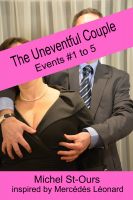 The Uneventful Couple - Events #1 to 5
by

Michel St-Ours
Bruno and Julie are a couple in their fifties, exploring new sexual games after more than 30 years together. Masturbation, exhibition, embarrassing and maybe humiliating situations, a bit of pain... A lot of their taboos are explored. Inspired by real facts and written first by a man for his spouse. Discover the first 5 stories... Is it true ?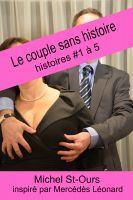 Le couple sans histoire - Histoires #1 à 5
by

Michel St-Ours
Bruno et Julie sont un couple dans la cinquantaine qui explore des aspects nouveau de la sexualité, après 30 ans de vie commune. Masturbation, exhibition, situations embarrassantes ou même humiliantes, un peu de douleur... Plusieurs tabous sont bousculés. Inspirés de faits réels et d'abord écrit par un homme pour sa conjointe. Découvrez les 5 premières histoires... Est-ce vrai ?
Michel St-Ours' tag cloud