Chris Pourteau
Biography
Currently residing in Bryan, Texas, Chris Pourteau has made a living at one time or another as a teacher, a lab technician helping to recover one of Christopher Columbus's ships, and a technical writer and editor. Shadows Burned In is his first foray into the world of long fiction.

Pourteau cites writers both modern and classical as influences, notable among them Bernard Cornwell, Stephen King, George R.R. Martin, Toni Morrison, Edgar Allan Poe, J.R.R. Tolkien, and Mark Twain. Other major influences include fellow Texan and singer-songwriter James McMurtry, Groucho Marx, and a little-known comedy troupe from England you've probably never heard of named Monty Python. (Python is always happy to have someone shill their name as long as they don't have to pay for it and might get a chance to sell you something, so there you go, guys. Regards from Texas.)

As far as reading interests go, Pourteau prefers fantasy, science fiction, and historical fiction, which you could probably guess from his list of influences. Occasionally, he likes taking random chances on new writers--new to him, anyway--and has recently become enamored of the works of Roberto Calas, Nick Cole, Suzanne Collins, Tess Gerritsen, Manel Loureiro, and John Scalzi among others. He's also a die-hard Star Trek fan and prefers gritty dramas like Breaking Bad, Hell on Wheels, Homeland, and The Killing when he flips on the tube.

If you'd like to say howdy, feel free to email him at c.pourteau.author@gmail.com.
Books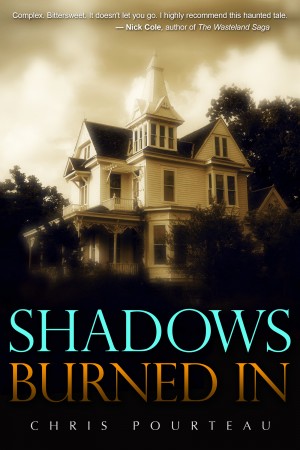 Shadows Burned In
by

Chris Pourteau
David Jackson leaves a successful law practice in the big city to return to the hometown he fled long ago. At its center stands Old Suzie's house, abandoned and simmering in the town's tortured past. David's childhood nightmares soon resurface to threaten his wife and daughter. Does David's childhood hold the key to what haunts Old Suzie's house—and his family's salvation?
Chris Pourteau's tag cloud