Cheryl Bannerman
Even at the age of seven, up and coming Author, Cheryl Denise Bannerman, would sit for hours on end reading about faraway lands, intriguing characters, and intoxicating storylines.

And by a pre-teen, she was writing poetry for publication and short stories for school that moved the reader to laughter, tears, and sometimes anger. She was an old creative soul from a young age, experiencing way too much 'life' than she would have liked.

Now, this little girl is all grown up with a child of her own. A child who also loves to write, and even has a unique and masterful talent for drawing as well.

When Author, Cheryl Bannerman, is not writing for her next book, she is running her 24-year old virtual B2B Training and Development company based out of her Orlando, Florida, home. Since 1996, she has been known as an Instructional Design and e-Learning Specialist -- with clients all over the US and overseas -- creating classroom training materials, e-Learning modules, job aids, and more for corporate employees and their clients.

This author also holds a Bachelor of Science in Business Management and a Master of Science degree in IT Project Management and Leadership. She manages multiple projects over various time zones as an expert Training and Development Service Provider. Her wide range of training experience, from classroom-based as a Computer Instructor to online universities as a Professor, all the way to the corporate arena -- in conjunction with her background in Technology -- has greatly contributed to her success in the field of Training and Development.

In her spare time, she loves to read murder mysteries, attend museums, watch movies, try new cuisines, shop with her daughter, and take in the sun on the beach. And, although this author's works are fiction, she has incorporated many of her personal life's experiences into their stories.
Cats, Cannolis and a Curious Kidnapping Book Trailer
The audiobook for Cats, Cannolis, and a Curious Kidnapping is starting to display on all retail sites. You are going to LOVE this cozy mystery audiobook! In print and ebook: 5 STAR Reviews on Amazon!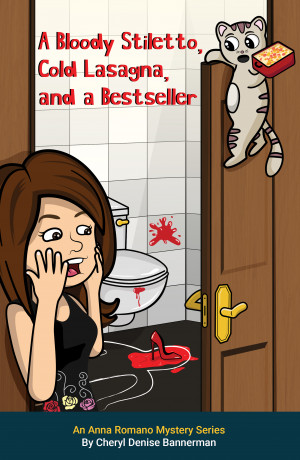 A Bloody Stiletto, Cold Lasagna, and a Bestseller
by

Cheryl Bannerman
In Book 2 of The Anna Romano Mystery series, Anna does not disappoint, as her nosiness has her 'literally' tripping over bodies. Before she knows it, she's right in the middle of yet ANOTHER murder case!