Constance Needham
Biography
I was born on a farm outside Wichita, where I grew up with a sister, Louise, and a brother, Jennifer. My mother is deceased--it's not my fault either--but my father remains as a boat anchor on the life of Louise, who, rather than seeking to escape that dismal place, still continues to this day to see just how far one can improve techniques of stagnation and codependence. I believe envy is at the root of that. If she suffers enough, she thinks she'll finally have enough material to take me on in my own chosen realm of writing. I'm not worried--nations have fallen on similar illusions. In the immortal words of Ricky Ricardo:'I don't thin'so Lucy.' Anyway, enough about me. How about more of you...buying my books? What's that? What was that you just said? How rude!
Where to find Constance Needham online
Books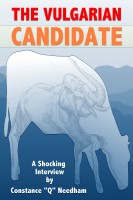 The Vulgarian Candidate
by

Constance Needham
Infamous interviewer and humor writer Constance Needham takes her famous Q and A format to the limit during a ribald and hilarious face-off with "The Vulgarian Candidate", aka Ronald Gump, a man beset with enmity and jealousy over the fact that a certain real estate developer has copied his persona and unique traits to steal his rightful place among those running for office. For mature audiences.
Constance Needham's tag cloud