Dale Summers
Biography
I was born January 1, 1939 in Ocala Florida. I lived in Ocala until 1963, when I married and we moved to the Orlando area. In 1973, we moved to Maryland where we lived for 27 years. I returned to Florida in 2000 and retired in 2005. I am married, have two daughters (one living and one deceased), five grandchildren, two great grandchildren, two step daughters, five step grandchildren and one step-great grandchild.

From 1956 to 1963, I worked as a bank teller and as photographer and darkroom technician at Florida's Silver Springs. I worked for an office supply company in Orlando while attending the Florida Technical College in Orlando from 1963 to 1966. My work from 1966 on was centered around computers. I worked as a computer operator at Martin Marietta in Orlando for a year, then as a computer operator at the Kennedy Space Center (then called Cape Canaveral) for 7 years. In 1973 we moved to Maryland where I worked for Honeywell, managing a computer site for the Navy at Patuxent River Test Center, just outside Lexington Park, Maryland. After 8 years there, I transferred to the Honeywell corporate offices in McLean, Virginia where I worked as a proposal manager until leaving the company in 2000 to return to Florida. I rounded out my career working as a team manager for GC Services in Lakeland, Florida for 5 years until my retirement in 2005.

I like to do woodworking, fishing, camping, gardening, reading and WEB site building. In working with wood, I have designed and built two tiny travel trailers, one sailboat, two kayaks, a one-person fishing pontoon boat and a jon type fishing boat. I am currently building a small fishing pram to use for fishing in small lakes in my area that do not have boat ramps. I also have a 16' bass boat and a 20' pontoon boat. I have a business WEB site, a personal WEB site and I host and maintain the WEB site for my high school.
Books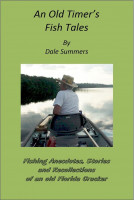 An Old Timer's Fish Tales
by

Dale Summers
A collection of a native Floridian's anecdotes and stories about fishing.
Dale Summers' tag cloud