Nataisha Dickey-Pointzes
Biography
Rev. Evangelist Nataisha Dickey-Pointzes is the Executive Director & Founder of Created to Conquer Ministries. Nataisha truly loves the Lord and makes it known through her living and giving. Nataisha knows what it is to be bound. She preaches what she has lived. After years of drug addiction, low-self-esteem, a victim of sexual abuse and poverty, she experienced the power of deliverance and restoration through the Holy Spirit. Created to Conquer Ministries has a driven mission to empower, inspire and equip others to overcome many of life's issues and challenges by providing biblical tools and biblical strategies so that they may receive healing and deliverance to experience the life that God has pre-ordained for them to live. Her purpose is to empower believers to live and operate with a Kingdom mindset to produce Kingdom results.
Where to buy in print
Books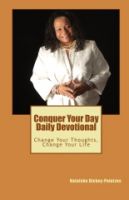 Conquer Your Day Devotional
by

Nataisha Dickey-Pointzes
Your destiny is not by chance, it's by choice. If you commit to change your thoughts, you can change your life. All that is required is the courage to dream. This 30 day devotional will provoke you to pursue your purpose through the inspired word of God. Exercise your faith and believe! It's that simple!
Nataisha Dickey-Pointzes' tag cloud