C. Richard Davies
Biography
There was once a young man who dreamed of super heroes, of spaceships, of wizards, of all manner of things that never were or might have been or might be. Sadly, not being Peter Pan, this young man grew up to become me.

So now I write about what I used to dream about.
Books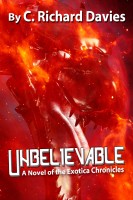 Unbelievable: A Novel of the Exotica Chronicles
by

C. Richard Davies
Towards the middle of the twenty-first century, human beings began to develop unusual, even paranormal talents. For many years they were kept secret from the general public. And then they weren't. This is one of the stories of what happened next.
C. Richard Davies' tag cloud