Helena Crosse
Biography
The word of the Lord was given to me in 2009, that I was gifted to write and publish, God's imparted gift to me. This word continued on to include a revelation of an incredible library with cathedral ceilings and massive books on a pedestal. These books had missing or blank pages that were stored up within me, which God had given to me, and were bursting to come forth with revelation people needed to hear. God gave me the title: "Forever Faithful", a platform of our Forever Faithful God. I was encouraged to be bold, to give it to Him, to trust, and step into the fullness of what God was directing for me. This book is the fulfillment of God's call, and it is my story. For nothing is impossible with God. To God be the Glory.
Books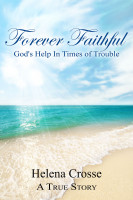 Forever Faithful, God's Help In Times of Trouble
by

Helena Crosse
(5.00 from 11 reviews)
Forever Faithful is a true story of God's never failing Faithfulness. In this book I share testimonies of Faith to inspire hope, comfort and strength for everyday struggles, for life challenges, and for people experiencing times of trouble. Forever Faithful testifies how faith in God can get us through even the worst of times of distress and despair. God's faithfulness abounds forever
Helena Crosse's tag cloud
Smashwords book reviews by Helena Crosse
Seeking a Miracle on Aug. 27, 2016



A wonderful read of walking in faith of God's promises. Thank you for bringing them to remembrance. God is faithful!