Cryshtal Avera
Biography
Cryshtal Avera is an Empowerment Coach, a natural horsemanship instructor through the Parelli Program, a small business owner, and a US Air Force Veteran. Cryshtal thinks of herself as a Soulseeker. She looks for the learning in each life experience; the opportunity for growth. Cryshtal's passion is to empower others to find authentic growth and realization through self awareness. That dream has been nurtured and facilitated predominantly through a Natural Horsemanship Program called Parelli. Through the ups and downs of building and maintaining a small business, a 16 year marriage, and most notably her drive to be a partner worthy of a horse, Cryshtal has recognized and benefited greatly from the ability of the horse to offer pure, raw, honest feedback to the human. As her life has unfolded and she began living authentically, honoring her unique path, Cryshtal re-discovered a need to write and share her journey in order to connect with others. She offers individual empowerment coaching sessions and workshops where the goal is for the client to be empowered to find answers to what she needs at that moment; what her next step is for growth. Cryshtal's current workshops have titles such as "Follow you Bliss", "Allow", "Reading People", and "Start and grow a successful business". Cryshtal also offers horsemanship lessons and has written her first book. The title is A life of Growth through the Heart of the Horse. This book is full of stories that come from a three year period of great change and challenge in Cryshtal's life where she consistently had lessons through challenges life presented and largely from her journey with her horse.
Where to find Cryshtal Avera online
Books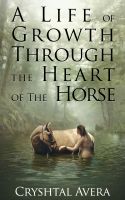 A Life of Growth Through The Heart of The Horse
by

Cryshtal Avera
In A Life of Growth Through the Heart of the Horse Cryshtal Avera offers insight into her life of growth in the form of stories of her own experiences. Cryshtal's focus on making herself vulnerable and being authentic to connect with others is inspiring. A Life of Growth Through the Heart of the Horse is a book that tells a story of one woman who wanted a relationship with her horse.
Cryshtal Avera's tag cloud