Charles Scott Carron
Biography
Charles Scott Carron was raised in the small Missouri town of Ste. Genevieve where tradition is great but opportunity is small. He has worked as a hairdresser, owning a series of salons and employed by others while still holding on to his dreams of writing music and books to help others. He began writing music lyrics and recording at the age of twelve however had never had the knowledge of how to get it "out there" for others to see and hear. Thanks to modern technology and the help of friends the opportunity has risen for that time to come. With many different interests, mostly within the arts realm, Charles has been given the chance to help others by pouring himself into his works and showing that dreams really can come true with perseverance and determination. He hopes to get reader's thinking about their own dreams and how they can make their dreams reality. Maybe, like the characters in his books, it'll take a little work. But with friends and family helping to push it along, your dreams can come true too.
Books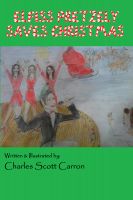 Elfiss Pretzely Saves Christmas
by

Charles Scott Carron
Elfiss Pretzely Saves Christmas is a story of an elf who only wants to sing in the Grand Elf Choir. His father has other ideas. Elfiss goes on an adventure. Making friends along the way he helps them to achieve their goals while working on making his own dreams come true.
Charles Scott Carron's tag cloud