C S Marks
C.S. Marks is best known for her trilogy of high fantasy novels (Elfhunter; Fire-heart; Ravenshade). Her books have earned acclaim from a wide range of readers, particularly for depth of character development, compelling storyline, and writing excellence. The kindle versions have enjoyed top 10 seller status in epic fantasy in both the US and UK.

After a year of all titles being "out of print and unavailable", Chris is now looking forward to the re-release of the newly remastered Elfhunter trilogy, to be followed by comic book and graphic novel adaptations. She is also hard at work on a new Alterran series, The Undiscovered Realms, and the first in a series of novellas, The Alterra Histories, has recently been released (The Fire King).
C.S. Marks Website: CSMarks.com
Eflhunter Website: Elfhunter.net
On Facebook: http://www.facebook.com/Alterra.CSMarks
C.S. Marks holds a doctorate in Life Sciences, and is a Professor at Saint Mary-of-the-Woods College, where she has taught Equine Science for twenty years. She is a popular panelist, seminar presenter, and lecturer. Her no-nonsense, realistic, practical-yet-good-humored approach has benefited many aspiring authors. She encourages writers who strive for excellence, regardless of publishing path chosen.

Message from C.S. Marks:
OK, so that's my "canned" bio. What can I share that's really interesting? Well, I make longbows (and shoot them, too!); I ride horses (I am a retired endurance rider--I used to compete in 100-mile horse races over various terrain and in all weather); I have roamed the wilds of North America as a field biologist, and have ridden and roamed the Australian countryside as an equine scientist and endurance competitor. My husband and I love dogs and share our home with thirteen of them. Every now and then my Border Collie, Bob, sneaks onto my computer and posts in the Romance forums on Amazon--he's such a romantic.

I'm extremely pleased to be getting up to considerable mischief at Parthian Press, thanks to a really great team of professionals including "A" list graphic novel artist Hope Hoover and 30-year veteran editor Leslie Wainger. I love interacting with my readers, so please join me on Facebook, Twitter, Kindleboards Book Klub, and Goodreads!
Elfhunter Book Trailer
Learn about the first installment in C.S. Marks fantasy trilogy, The Tales of Alterra. "Elfhunter".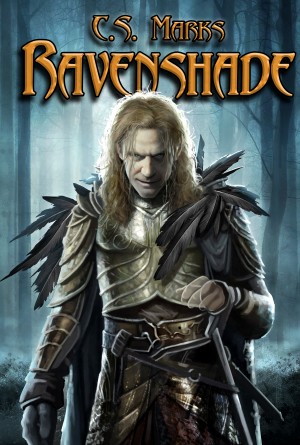 Ravenshade (Tales of Alterra, the World that Is #3)
by

C S Marks
No war truly ends with the last battle... Gorgon Elfhunter--desperate, defeated--has never given himself over to the will of another. Is the sight of a thousand Elves dying at his feet worth the risk of losing himself? Gaelen Taldin--reluctant Elven warrior--fights to save her sanity, her people, and her world from the Shadow that lies within us all Lord Kotos--ancient and deadly agent of a gre