Chuck Sperati
Biography
Among other things, I'm a writer--with some published experience--whose been mostly quiet for the past few decades, mostly because I let life get in the way. I've long had a creative outlet at the gaming table and recently found another when I started building a website. With this new outlet also came inspiration. Right now I'm working primarily on a series of short stories that has received some very positive feedback, so I'm sharing. If you enjoy anything I've written, check out my website at https://www.chucksperati.com, where you can find more things that have crawled out of my mind.
Where to find Chuck Sperati online
Series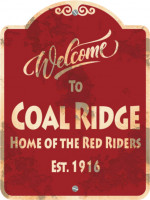 Haunted Coal Ridge
by

Chuck Sperati
Set in a small, somewhat geographically secluded town in the Midwest, the blue collar people of Coal Ridge are friendly and laid back, enjoying block parties, gossip, and the simple joys that come with being a close knit community. Because everyone knows everyone else, secrets are hard to keep, but some are so well hidden that they've been forgotten. These are a series of short stories that explore a supernatural awakening that tests the bonds of family and community.
Books
Chuck Sperati's tag cloud