Clarke Stevens
Biography
Clarke Stevens is an engineer, inventor, and musician who creates new technology by day and makes fun of it through poetry by night. He has designed products and pantented technology in cable television, telephony, consumer electronics and computer engineering. He spent the late 90's providing advice on emerging technologies to venture capitalists. He built the world's largest subwoofer and has worked as a cowboy and a birthday clown. Clarke holds graduate degrees in Electrical Engineering from Brigham Young University and Georgia Tech and an MBA from the University of Colorado. Clarke lives in Colorado with his wicked smart wife and two incredible boys.
Books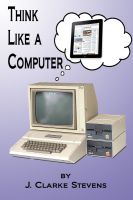 Think Like a Computer
by

Clarke Stevens
Think Like a Computer is the comedic and poetic last resort of the technology challenged. It breaks technology down to its most ridiculous and sublime. The neophite will find the book entertaining and educational. The engineer will begin to understand the right side of the brain. A handy glossary is cross-indexed to explain esoteric terms. Finally, technolgy explained in verse.
Clarke Stevens' tag cloud