Craig Tuttle
Born and raised in New York, Craig Tuttle holds a B.A., M.A. in History and a Certificate in Archival Management from New York University. He also has a Masters in Library Science from Rutgers University.

Mr. Tuttle has more than 30 years of experience as an archivist and has specialized in paper and photograph preservation. He served as Project Archivist for the Fiorello LaGuardia Mayoral and UNRRA Papers; University Archivist at the University of South Florida and Florida Atlantic University; Archivist for the City of Tampa, Florida, and Head of Archives and Special Collections at Fayetteville State University. Mr. Tuttle has also served as an Archival Consultant for the Thomas Edison National Historical Site, Brevard County, Florida, and the Block Drug Company.

Craig has been a guest on numerous television and radio programs including Home Matters, Personal fX, Super Collectors, and the Heloise Show. He has also been featured in USA Today, Home Journal, Tampa Tribune and St. Petersburg Times (Tampa Bay Times), and in magazines such as Family Circle and Good Housekeeping. Mr. Tuttle has been listed in Who's Who in America since 2013.

Craig Tuttle is semi-retired and lives in Florida near his two children.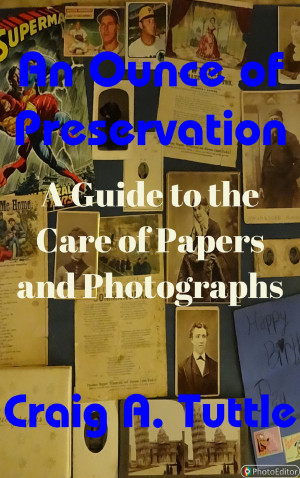 An Ounce of Preservation: A Guide to the Care of Papers and Photographs
by

Craig Tuttle
This book is a comprehensive guide to the environmental conditions that damage documents and photographs, and the appropriate preventative measures. There are also instructions to clean and repair items, how to locate and work with a conservator and the arrangement of document and photograph collections. There is an appendices of archival products, supply companies and related information.