Robert E. Curry
Biography
Robert Curry lives in California's high desert where rocket planes first broke the speed of sound and Space Shuttles returned from orbit. After a 38-year career with NASA, he retired as Chief Scientist for the Armstrong Flight Research Center.
As a Christian and an engineer he believes that our faith will always be enriched when we seek after it sincerely and challenge it with every tool at our disposal. His fiction offers a rational, intelligent approach to religion that critical readers will find satisfying.
Robert lives with his wife Bonnie. They enjoy traveling, sailing, and spending time with their children in Hawaii and southern California.
Books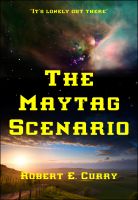 The Maytag Scenario
by

Robert E. Curry
No one was conscious when the hydrogen reservoir blew apart and drove the Constellation off course, but René was quickly revived to fix the problem. With hundreds of years to go until his spaceship reaches its destination and unable to return to hibernation, René knows he will spend the rest of his days alone. Can he find a truth that makes sense in an empty universe before it's too late?
Robert E. Curry's tag cloud