Yan Tan
Biography
Yan Tan loves a good story more than anything else in the world. She hopes that her stories can
brighten up a child's day and will strive to write more uplifting stories in the future. Besides short
stories for children, Yan has also written a movie screenplay, episodic screenplays for a cartoon
and numerous marketing brochures and financial reports. In her free time, Yan likes to bake, read,
and play ping pong.
Books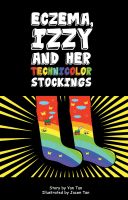 Eczema, Izzy And Her Technicolor Stockings
by

Yan Tan
Izzy suffered from Eczema and she was bothered by it. School bullies said she was contagious and wouldn't play with her! Find out how Izzy stood up to the bullies and finally stopped letting eczema get in the way of making friends and feeling good about herself. If your child suffers from Eczema, he/she will love this colorful tale and the many beautiful pictures.
Yan Tan's tag cloud