Cynthia MacGregor
Biography
Prolific author Cynthia MacGregor has had more than 50 books published conventionally and another 50+ published as eBooks. A full-time freelance writer/editor, she works from a home office In Palm Springs FL, just outside West Palm Beach, where she writes books, ghostwrites books for others, and writes "almost anything if the price is right", including web copy, catalog copy, advertisements, business materials, and more. And when she's not busy doing that, she edits books, magazines, websites, and "whatever else needs editing."

She loves writing so much that it's even one of her hobbies. For example, she writes all the plays produced by the Palm Springs Players, a South Florida community theatre group, for which she gets "no money but lots of enjoyment." She also enjoys wordplay with an online punsters group, PUNY, and when possible travels to the annual O. Henry World Championship Pun-Off, a wordplay event held every May in Austin, Texas, where she has appeared some years as a competitor and other years as a judge.

Cynthia believes herself truly blessed. She often says, "There is no one in the world whom I'd want to trade lives with."
Books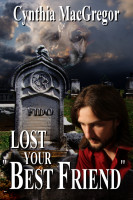 Lost Your "Best Friend": Coping With the Death of Your Dog or Cat
by

Cynthia MacGregor
The death of a pet truly is like the death of a beloved family member. This book offers not just sympathy, understanding, and warmth, but also genuinely helpful suggestions to help you through the grieving process.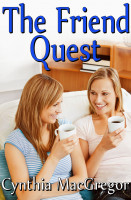 The Friend Quest
by

Cynthia MacGregor
Everyone needs friends. Yet sometimes, for one reason or another, we find ourselves with a shortage—not enough friends, or not enough really good friends. How do you make new friends? How do you keep your friends? If you could use a few more friends in your life, this book will help.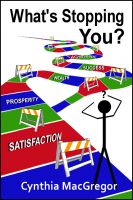 What's Stopping You?
by

Cynthia MacGregor
If you haven't yet gotten to where you want to be in life, what's stopping you? If you haven't achieved the success you want and deserve, this inspirational/motivational book will be your road map to getting ahead in the world.
Cynthia MacGregor's tag cloud