david caulkins
Biography
Dave Caulkins has been a student of the Great War (WWI) for more than twenty years.He's studied the major events and the people involved, and has visited several of the battlefields. He's read many books by participants and military historians. His sub-specialty is tanks; he's visited the Tank Museum, Dorset, England and read much about tanks and the WWI battles in which they were involved. He is a fan of and has read all 12 books of the Flashman series by George MacDonald Fraser (now, alas, deceased).
Where to find david caulkins online
Books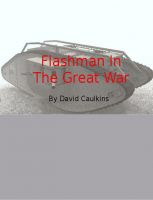 Flashman In The Great War
by

david caulkins
Flashman In The Great War" is an adventure story about Willie Flashman, the grandson of General Sir Harry Flashman. Like his grandfather Willie is a charming scoundrel and coward; he first designs and then unwillingly fights in British and German tanks in WWI.
david caulkins' tag cloud