Diane Adams
Biography
I have been writing since fifth grade, anytime I could find a quiet corner and prop a notebook on my knees. Even if I couldn't find the time or place, I always-always-always kept writing in my head. I tried to give it up more than once, even shredding a knee-high stack of poems and story starts. In time, I always go back to it because it brings me a unique sort of joy - the kind that springs from deep inside. Over the years, I've had a few nice responses from traditional publishers and a semi promise twice ... though I now know those aren't worth the paper they're not printed on. I was feeling pretty discouraged when a friend sent me an ad for self publishing on the Internet. Since I had quit my job to write full time (in spite of the fact that we were ranked with the working poor even while I was working) the 'no cost' factor caught my eye! I thought about it for awhile ... I had written more than 20 books and it looked as if they would all disappear when I did. Why not introduce all those characters via the Internet and give them a chance to survive? So here I am - Christian, wife, mother, Moomaw, author! I'm working hard to edit those books in the hope that readers will find a message that inspires them to delve into the best Book of all. I don't know you, but I know He loves you, and that's what my books are about. Blessings!
Books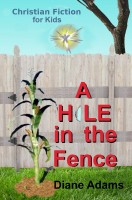 A Hole in the Fence - Christian Fiction for Kids
by

Diane Adams
(5.00 from 1 review)
Christian Fiction. Neal's father was killed during the 9/11 attacks in New York. Rose hasn't ever met her father. They're both staying with their grandparents while their mothers try to mend. They are drawn together by a tiny white creature which is neither bird nor bug. It lures them to a hole in the fence where they get a glimpse of God's garden.
Diane Adams' tag cloud
Diane Adams' favorite authors on Smashwords
Smashwords book reviews by Diane Adams
Boob Tube (a Soap Opera Novel) on Sep. 28, 2011



I don't watch soaps, but that didn't keep me from enjoying Boob Tube. At first, I was amused by the ridiculous obsessions of the soap stars, but it is probably too close to the truth to be laughable. All the same, the author made it entertaining and added an element of suspense that kept me reading when I should've been doing other things. Well written, great plot, spectacular ending! I would buy another novel by this author.

Wings of the Wind: Not Alone on Dec. 20, 2011



With carefully chosen words and phrases, the author describes the dark places in life that many of us have visited. Then she reminds us of the One who comes bringing Light that makes depression fade away. These are moving poems that will touch your soul, accompanied by beautiful photos. I'll be rereading this poetry more than once, and coming away filled with hope each time