Kantilal R Patel
Biography
About The Author
Born in 1933, in small town in the province of Bombay, now Gujarat State, in India, who after receiving bachelor of civil engineering degree in 1956 came to the United States of America as an engineering student for a graduate study. He received Master of Science degree in civil engineering in 1958 from University of Illinois.
He became US citizen in 1965. He has primarily pursued two areas of interest throughout his life...bridge engineering and market analysis, in addition to his search for the almighty, the creator of the universe.
He entered the stock market investment field in 1966. Although, he was 'A Grade' student in his academic career, he failed to understand the working of the Wall Street Jungle. After incurring numerous losses, he decided to analyze the market. He studied and researched the stock market for over 20 years, developing the trading methodology and verifying it with real "down-to-earth" case studies. This book is the result of that study.
Books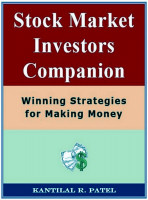 Stock Market Investors Companion
by

Kantilal R Patel
The greatest risk in the market is not being in when the prices are rising and not being out when the prices are falling. Therefore, it is very important to know when to buy, what to buy and when to sell; this is what this book is about. This book presents a practical approach to investing in the stock market for making money; it makes the investing process foolproof and mechanical.
Kantilal R Patel's tag cloud