St. Dustin of Borealis
Biography
The author wishes to remain anonymous because, in his opinion, the good-ol'-boy club (gender applies) that runs the town he writes about has proven to be vindictive toward those who challenge their autocratic disposition. Saint Dustin of Borealis is a pseudonym. "Dustin" derives from old Norse, Torsten, or Thor's stone. The name Torsten meant valiant fighter. Thor's stone (or hammer) in action was thought of as a lightning bolt. In this story Thor's stone might be considered a metaphor for Dustin's "hard-hitting" satire. Dustin has a long teaching career and is interested in the difficulties educators face in the U.S., He lives in the midwest, rather quietly. Despite his satirical proclivities, he believes he is a normal person, even if uncertain what standard applies.
Smashwords Interview
Books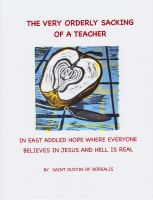 The Very Orderly Sacking of a Teacher in East Addled Hope Where Everyone Believes in Jesus and Hell is Real
by

St. Dustin of Borealis
This is the true story of a teacher charged with disorderly conduct for trying to maintain order in her classroom. Names are fictional but all testimony is verbatim.
St. Dustin of Borealis' tag cloud