Daniel Arguelles
Biography
My name is Daniel Arguelles. I have been married 22 years to a wonderful girl from Texas (my bluebonnet I call her!). We have a fifteen-year-old daughter who loves to read so much that if I was to punish her I would tell her "No reading for a week!" But I've never done that, although sometimes I'm tempted because I try to read every book she reads and I'm having trouble keeping up! I have lived in three countries and visited some twenty more. In my younger years, I was stationed in Germany where I did a great deal of kickboxing, and this was with Germans since we were just a handful of Americans in a remote site. And it was also there that I ran a thousand miles in my Harley Sportster zooming through the "Schwarzer Wald" squeezing out all the fun I could during the short summer months. Once back to the U.S.A., I was stationed at Randolph Airforce Base in Texas where joined the honor guard for about three years, something I enjoyed immensely. Also while I was there I trained others on how to give a presentation. When I left the military I became an electronics instructor and a tour guide. Some of my favorite things are teaching kids at church, camping and hiking, reading and of course, writing, and also creating memory videos of all the great times we've had as a family.
Where to find Daniel Arguelles online
Books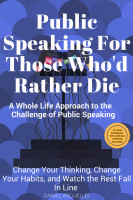 Public Speaking For Those Who'd Rather Die
by

Daniel Arguelles
A whole life approach to the challenge of public speaking is unlike anything you have seen before. You will learn how much what you do every day, and how you approach challenges in general, form the patterns of your life. Everything to some extent is interconnected, and by tweaking one area, you'll affect and influence the other, including of course, how you approach the public speaking challenge.
Daniel Arguelles' tag cloud