Daniel Sute
Biography
Thanks for stopping by! My name's Daniel, and I've enjoyed writing stories since my teachers finally figured out, in the third grade, how to teach me how to write. Or, more accurately, once I finally started cooperating with them! My Catholic faith (friendship with God) is central to my life, and I'm thankful everyday for the passion He has given me for reading great stories and doing my best to pen some myself. The world needs more imagination, and books are the greatest means I know of to help.
Where to find Daniel Sute online
Books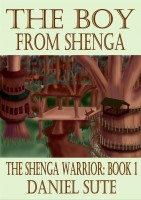 The Boy from Shenga
by

Daniel Sute
From outside its vast treeline, the forest of Akromeno was ever a distant, mysterious land. A boy called Hans once looked on from the hills, but when savages forced him from his home at age 10 he plunged headfirst into a rich society that he had no idea was there. Two years passed. A King roared in a red fit of rage, and the boy was given a task well beyond himself and his humble name.
Daniel Sute's tag cloud