Darren Kelly
Biography
Darren Kelly was born in Dublin in 1971. He worked as a salesperson for one of Dublin's most famous shoe stores, Boylan's Shoes before he landed a prestigious role as an Executive Officer at Dublin Port (Ireland's largest shipping port) in 1990. He received a Diploma in Law (Honours) from the Dublin Institute of Technology in 1993. He was approached by Dublin's biggest radio station, 98FM, to host his own show in 1999, and he decided to leave shipping and pursue the challenge. Within months, he was spotted by a West Yorkshire radio station called The Pulse, and he became a firm favourite with a new audience in England. In 2003, he was asked to sign for the biggest radio station outside London, Heart FM in Birmingham. He interviewed Grammy, Oscar and Brits winners, including Cher, Lionel Richie and George Michael, and TV stars, including Eamonn Holmes and Dara O' Briain. In 2007, he created The Kellcomm Method of Communication for Sales, Media Relations, Presentations and Personal Development. He hosted his last breakfast radio programme on Smooth Radio in 2009, before embarking on a full-time passion to help people in business increase productivity and sales through effective communication. The common thread of the last 20 plus years is his dedication to studying and teaching the art of communication to enrich people's lives, personally and in business.
Where to find Darren Kelly online
Books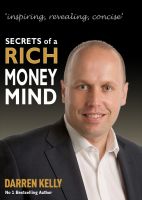 Secrets of a Rich Money Mind
by

Darren Kelly
Bestselling Author Darren Kelly puts you on the expressway to real success. Kelly explodes the myth that riches are for the privileged and shows how you can create success that is emotionally, spiritually and financially rewarding.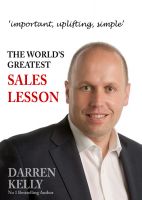 The World's Greatest Sales Lesson
by

Darren Kelly
Darren Kelly's iTunes Number 1 Business Bestseller reveals the secrets of the world's greatest ever sales people. Kelly uncovers the personal success stories of the names behind Apple, Microsoft, McDonald's, Nike, The Trump Organisation, Wal-Mart, Sony and Estée Lauder. Kelly also shows how you can instantly adopt those secrets for your success.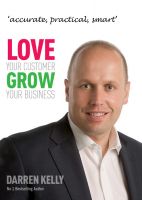 Love Your Customer Grow Your Business
by

Darren Kelly
Bestselling author Darren Kelly takes you inside the mind of your customer to show you how they buy, based on a range of emotions and lesser logical reasons. You will never spend or sell the same way after reading Love Your Customer Grow Your Business. A modern classic.
Darren Kelly's tag cloud