David E. Best
Biography
David, Emmanuel Best is a man called by God to raise a glorious people for Christ through the teaching of the Word of God. He is a teacher who instructs people in the mind of God, and minsters the gospel with Biblical clarity and pure passion. He is a prolific writer, author, and public speaker, featuring regularly at conferences, seminars and meetings across the nation. He hailed from Egbo in Kogi State, Nigeria, and married to a wonderful Jewel, Annabel. They are blessed with children, Angela and Benjamin.
Where to find David E. Best online
Books
The Making of A Servant Leader
by

David E. Best
The Christian is to be Christ-like in character if he must become true spiritual leader. Christ Jesus is God's Pattern for all of us to model. It is therefore of paramount importance for those who are called to leadership positions, to fully submit themselves to the Master to break down in pieces and to build again. Jesus is the Potter, and we should let Him mold us the best way He wishes.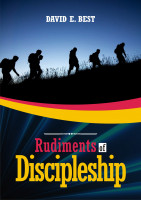 Rudiments of Discipleship
by

David E. Best
We've got to go back to the basics principles of discipleship – mentoring, equipping, and drilling the newly saved in the knowledge of Christ. Growing in faith demands being deeply rooted in the WORD. Spiritual soundness is much connected to spiritual foundation. Thus Rudiments of Discipleship offers that integral parts the believer needs to set on a flourishing walk with God. Read and be blessed.
David E. Best's tag cloud