David Drennan
Biography
Formerly Special Professor of Management, David Drennan is Chairman and founder of Good People Management Ltd., the international consultancy company.
His clients include Barclays Bank, Coca-Cola, the Bank of England, General Motors, British Aerospace, Castrol, Her Majesty's Treasury, Siemens, Volvo and many others.
His books include Transforming Company Culture, The 12 Ladders to World Class Performance, and Winning The Executive Job Race.
Books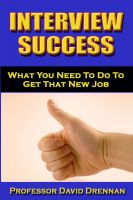 Interview Success - What You Need To Do to Get That New Job
by

David Drennan
For more than twenty years Professor of Management and international consultant David Drennan has acted as advisor to a long list of well-known companies. He knows from the inside what motivates companies in their hiring decisions, and now he is ready to share that unique knowledge with you. If you really want that job, don't hesitate - this is the book you need.
David Drennan's tag cloud