David Don
Biography
David Don lives, sleeps and writes in the cold and windy land that is Kilmarnock, in the west of Scotland.

He spends most of his days either writing, studying or else working for the man.

He is working on a four-piece compilation, entitled 'Perpetual Motion', of which his opening Smashwords story Everywhere is the first part. The collection features a series of twisted fantasy/science fiction stories which are set just outside the realm of the real.

Keep one eye on his page for the second story, Dark Aisles, which follows the King of All Things Dark as he comes to Earth, on an undercover mission, to work on the checkouts of the UK's Friendliest Supermarket.
Books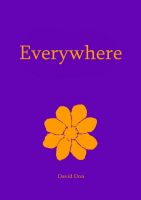 Everywhere
by

David Don
A twisted fairy tale. The people of this strange kingdom must always think good thoughts, for their minds are monitored at all times by the Queen's beloved magical flowers, which grow out of every crevice in the land. The Queen rules over all, and hears all - all but one. The kingdom's Princess is the only hope in a world where all thoughts but hers are heard, and slaughter comes daily.
David Don's tag cloud