David Gowdey
Biography
David Gowdey was born in London, Ontario, Canada in 1951. Twenty miles to the southwest the AHL's Cleveland Barons held preseason training camp in the nineteen-fifties and early sixties. There he saw his first hockey, the best of the Original Six against the hungry Barons, in an arena where the most distant seats were five rows up from the ice.

He lived in Canada and England before moving to California in 1981. He and his wife make their home north of San Francisco. His son is a busy documentary film editor; his daughter is a songwriter and musician. He still takes the occasional shift.

This is his tenth published book. His next, FADE IN: The Stories Behind The Screen, a collection of writing on classic movies, will be published November 2013.
Books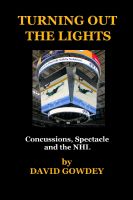 Turning Out The Lights: Concussions, Spectacle and the NHL
by

David Gowdey
In 1998 Steve Bocking suffered his second concussion in two years playing hockey. His father was a surgeon who had seen enough. He started a campaign to change the rules, and won in 2011 when Hockey Canada banned all head shots. But the NHL still refuses to listen. When did the game change? What are the dangers of concussions? Why does the world's top hockey league continue to ignore the evidence?
David Gowdey's tag cloud