David Low
I like to say that USPP took me 61 years to write. I was a skinny, asthmatic, ADD kid who made it through public and prep school, studied zoology and anthropology in college, worked in small-time show business for a couple of years, was a technical writer for a small computer firm, wrote a novel and had it rejected by fourteen publishers, got a Masters degree in Community Counseling, became a full-time spiritual seeker for six years in a bunch of groups, travelled extensively in India and South America, got a PhD in Religious Studies, taught successful noncredit meditation courses, got married and never had children, worked about seven years as a drug counselor in various settings while occasionally teaching yoga, meditation, and doing dreamwork, and for about ten years taught courses in religion and spirituality as an Adjunct Professor of Religious Studies.

In rough chronological order, my spiritual pedigree involves Episcopalianism, Catholicism, Transcendental Meditation, the Vedanta Society, devotional Hinduism, Sufism, Won and Zen Buddhism, and agnostically oriented self-inquiry (TAT Foundation). This book is the result of decades of personal observation, study, and experience; if I'd found anything else similar I would never have bothered writing it. I don't know if the insights in my book will help anyone, but they sure helped me, and if I have anything to offer it's only because I've learned so much from so many helpers and spiritual masters, prominent and otherwise.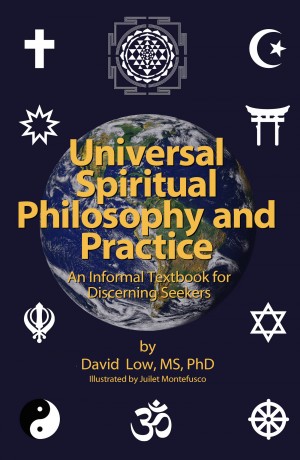 Universal Spiritual Philosophy and Practice: an Informal Textbook for Discerning Seekers
by

David Low
(4.67 from 3 reviews)
In an illustrated, informal way, this book details all the central insights of mysticism and relates them to psychological understandings of spiritual maturity: the unimportance of belief, the deep structure of religion, rebuttals of orthodoxy, cosmologies and theories of enlightenment, various practices and teachers, the mechanics of alternative healing and dreams, and more.