David Marsh
Biography
David Marsh's first attempt at anything more than a support writing role is his 2016 docudrama E Pluribus. Before that he helped his now wife write Sunda Cloud, Ransom's Bond, Synapse, Six Days to Midnight, Fifty-eight Faces, and Allie's Victory.

Dave lives in Massachusetts with his darling wife, and on and off with one or more of their seven adult(ish) children (money isn't everything, but it keeps the kids in touch). His favorite saying is; life is not a race, the first one across the finish line is not the winner. Cooking is his favorite pastime. Favorite meals of his are family secrets, so secret even he doesn't know what they are. He even does the dishes, fixes leaky pipes, and does windows (eat your hearts out, girls). A life-long engineer and inventor, he works for a big multi-national foreign based conglomerate (one of three Americans who actually enjoys working for a foreign conglomerate) and holds eight US patents.
Books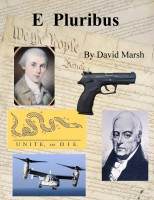 E Pluribus
by

David Marsh
To save their lives, Akira Madison, and Ty Yates, political opposites and descendants of the famous founding fathers, must band together to unearth the true story of the US Constitution, and expose the secret society that protects it to this day.
David Marsh's tag cloud