David Peter Jameson
Biography
I was published in a Phoenix newspaper in the second grade - a small poem/blurb about a boy exploring a haunted house. I took this wonderful accomplishment and sat on it for the next thirty years, never thinking that I could create anything of substance. However, when my brother suggested that we write a book, the story that we crafted seemed original enough to put to paper, so I embarked upon the process. Genus is the first novel in my trilogy, to be followed by Heterosis and then Neplusultra. In addition to these works, I have written two feature-length screenplays and numerous short stories. I hope you enjoy Genus, and look forward to hearing from you.
Books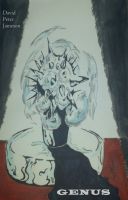 Genus
By
David Peter Jameson
Price:
$3.99 USD.
Words: 99,600. Language: English. Published: July 12, 2013. Category: Fiction
Audrey and Kelvin fall in love, but college life is not that simple. Audrey's reclusive parents still try to control her, and Kelvin's father, Johnny, is slowly going insane. Why are they being followed? What is Johnny afraid of? When will Audrey finally be free? Genus isn't a story about elves - it's about mankind as a means to an end, where control is currency and deception is reality.
David Peter Jameson's tag cloud