David Royko
Biography
DAVID ROYKO, Psy.D, is a licensed clinical psychologist and freelance writer. Dr. Royko has written extensively about children of divorce, autism, and music for a variety of publications, including Parents Magazine, the Chicago Tribune, the Chicago Reader, and the New York Times, and has been featured on National Public Radio's "This American Life." His book, Voices of Children of Divorce, is published by St. Martin's Press and as an eBook by Macmillan. He is the editor of Royko In Love: Mike's Letters to Carol (University of Chicago Press, 2010), and author of the eBook, The Chronicles of Ben: Adventures in Autism (Smashbooks, 2013). Dr. Royko joined the Circuit Court of Cook County's divorce mediation, intervention and education program, the Marriage & Family Counseling Service, as a mediator/conciliator in 1988, and has been director of MFCS since 1993. From 1999-2003, he designed and taught "Children of Divorce in the Classroom: A Two-Day Workshop for Education Professionals" for SkyLight Professional Development and Training, and co-hosted "Royko's Shrink Radio," a weekly call-in show on WRMN-AM, Elgin, from 1999-2000. Dr. Royko lives in the Chicago area, is married to Karen, and they have twin boys, Jake and Ben.
Where to find David Royko online
Books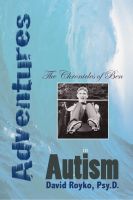 The Chronicles of Ben - Adventures in Autism
by

David Royko
The Chronicles of Ben collects the writings by psychologist and author David Royko about his son and the severe autism that has been at his family's core ever since Ben's diagnosis. This book presents, in chronological order, both published and previously unpublished Ben Stories, offering parents, professionals and anyone interested in life with severe autism an intimate view from the inside.
David Royko's tag cloud