David T. Moore
Biography
David T. Moore is an experienced and inspiring
leader who spends his life encouraging and motivating people. He specializes in building management teams and enhancing interpersonal relationships. He's hosted his own radio and
television programs and has been the keynote speaker for hundreds of business gatherings, associations and corporations.
He's the author of seven books and resides in Palm Springs, California and Maui.
Books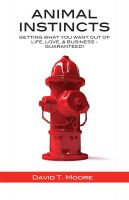 Animal Instincts
Animal Instincts is all about maximizing your understanding of people. Everyone on the planet is driven by one of four basic personality profiles. Understanding them is essential to our personal and professional success. Author/communicator David Moore has taken the four personality types and dropped them into the world of K9s. "Animal Instincts" change your life and business forever.
David T. Moore's tag cloud