D. Benfer
Biography
This novel was written by my late husband and me. It was written during the last 6 months of his life and I have just recently completed it. It was a work of love between both of us during a difficult time in our lives. It was a way of continuing to live while we knew he was dying, something we could do together and share with our children and family for years to come and even after we were both gone. He was only 48 at the time of his death in 2008, too young to die from cancer, but his prayer and wish was for me to continue to live. This past New Years Eve I flew to Bermuda and spent the holiday bringing in the New Year, completing our work. Now that it is complete I feel it is a novel that can be shared with all who enjoy the read of a fiction action novel. My late husband's name was David and mine is Debra, hence the author being "D Benfer." We were soul mates, so it is only fitting that this novel be authored as such.
Where to buy in print
Books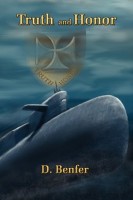 Truth and Honor
by

D. Benfer
Travel through time from the Knights of Truth and Honor in the 1300s to our modern age of technology. JD and Isaiah, two friends working together for separate goals, become as close as brothers. They have no idea their ancestors from the 1300s shared a similar bond. Their lives take an evil twist when Osama Bin Laden and Ahmadinejad try to manipulate those who would do harm to the United States.
D. Benfer's tag cloud