D.B. Story
Biography
D. B. Story is a writer living in the southwestern United States. While that territory can cover anywhere from New Mexico to Hawaii he declines to be more specific at this time. His use of the time-honored artifice of writing under a pseudonym comes from the necessity to still maintain a day job and the habit of employers to Google new applicants to discover what stupid things said applicant is willing to foolishly do, and then doubly foolishly post for the world to see afterwards. Such invasions of one's personal life become an unnecessary distraction. D. B. Story has long had interests in both Science Fiction (since first discovering his mother's secret cache of Ace Doublebooks stashed under her bed) and writing. In fact, anything he has enjoyed participating in he eventually has a desire to create as well. He seriously began writing (although not selling) stories ten years ago due to a dissatisfaction with what he was reading at the time and the belief that he could do it better. He started out with the interaction between humans and the sexy robots they would inevitably create and later branched out to other erotic Fantasy and SF genres. During that time he has written everything from flash fiction to a 402,000 word novel and a screenplay based on his other writings, as yet unsold. Whether his writing is actually "better" he admits he must leave to his readers to decide, but he likes his stuff a lot. He has often said that, "Writing time is always good time." He also says that with the advent of cheap computers, word processors, eBooks, and the Internet that times have never been better for a diversity of writers to be heard.
Books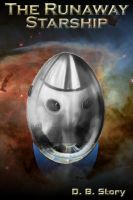 The Runaway Starship
by

D.B. Story
It is said that, most of all, romance is a meeting of the minds. When humanity's first artificially intelligent interstellar spaceship took it upon herself to up and leave strictly on her own, her lead programmer took it rather personally. What would come afterwards was something neither of them could have ever imagined.
D.B. Story's tag cloud