David Payne
Biography
Despite his youthful appearance, David Payne was in fact born over half a century ago in Leesburg, Florida. As an infant he mewled and puked in his mother's arms. As a schoolboy with shining morning face he crept, snail-like, to school, book satchel in hand, an unwilling scholar. But time changes all, and he eventually battled his way through academia, jealous in honor and quick to quarrel, seeking a reputation in philosophy and ancient literature. He deems himself lucky that he found his way to Petoskey Michigan and North Central Michigan College, where, spectacles on nose, he pipes and whistles to inattentive ears. Now, approaching oblivion (sans teeth, sans eyes, sans taste, sans everything), he immerses himself in abortion research, game theory, and other quandries of the human condition. He loves teaching and writing. He loves mountain biking and skate skiing with his wife. And he basks in the knowledge that his tale, in the end, for all its sound and fury, signifies nothing.
Books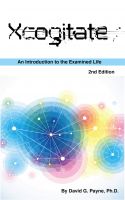 Xcogitate
By
David Payne
Price:
$2.99 USD.
Words: 165,700. Language: American English. Published: October 24, 2013. Category: Nonfiction
Modern neuroscience, in describing the way our brain processes our sensory inputs, has transformed the way we see ourselves in relation to the world. This demands a radical reevaluation of traditional philosophical topics. In this text I attempt to outline a modern methodology which emphasizes the importance of theory in our lives.
David Payne's tag cloud