D.C. Raymond
Biography
D.C. Raymond is from Trinidad and Tobago and views the world through the eyes of a dreamer. Relationships are important to him and he enjoys observing people's actions and interactions. Having ventured away from the comfort of his twin-island paradise, he was lucky enough to encounter someone who views the world as he does and now resides in Bermuda with his wife, daughter, and son. Live and love!
Books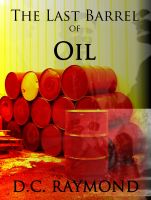 The Last Barrel of Oil
by

D.C. Raymond
The Last Barrel of Oil delves into considerations which may seep into each and every mainstream individual as we progress toward a life without oil. Those of us who have attained a sustained existence beyond survival and into the realm of luxury could be hard-pressed to accept a return to a basic lifestyle. Would we have the foresight to prepare now or will we continue to exploit the earth?
D.C. Raymond's tag cloud