Jacquelyn de Villiers
Biography
Jax is a teacher who would give her eye teeth to be a full time writer. She has little time but lots of energy and wrote the whole book, in pencil, between 3 and 5 in the morning before setting out on a (reluctant) training run. The reviews and feedback have been incredible with most readers claiming that they have found it hard to put the book down due to the fact that it is so authentic and real. It is, in essence, a diary, and it is raw and unedited. It is a remarkable first book and readers have been asking for a sequel. Following the same format as Time to Run, Jax is trying to juggle training for a 90 km ultra marathon , teaching six year olds, her two delightful children and even more delightful husband. Jax wrote under a pseudonym and is actually Nix, her best friend's name in the book. She did this to prevent being both fired and disinherited (either way she needs the money) and came close to being both!
Where to find Jacquelyn de Villiers online
Books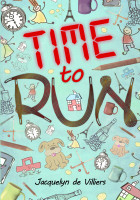 Time to Run
by

Jacquelyn de Villiers
Time To Run Jax is an ADHD preschool teacher with a penchant for red wine - she is also desperate to run the Comrades Marathon. Her long-suffering husband has for years been trying to convince her to write a book and she decides to tackle the two together.
Jacquelyn de Villiers' tag cloud